newborn photography sessions
The first precious weeks of life fly by so quickly that it's easy to forget just how tiny your little one was. Celebrate your new arrival and create a special reminder of those early weeks with a newborn photography session.
A typical newborn session will take place when your baby is somewhere between just a few days and 3 weeks old. Ideally, we aim to arrange your session for within the first 10 days, but the earlier the better.
During this period, most babies will sleep frequently and deeply allowing us to position them for their photos without waking them. They'll be small and light enough to cradle in your hands or snuggle into a basket or container and they'll also have a natural tendency to curl up as they were in the womb. This means that they can be placed into a variety of poses using a wide selection of props.

Most newborn sessions include several different styles to ensure that you have a good range of photos to choose from. There's no upper limit on the number of set ups for your session, but the amount that we actually manage to achieve will depend on how cooperative baby is on the day. It's important for me to understand your preferences ahead of your session so that I can plan and prioritise the shots that are most important to you.
Due to the length of time required for a newborn photoshoot, I only have a limited number of sessions available each month. Since babies rarely arrive exactly when expected, I can't take firm bookings in advance. However, if you pre-register your due date I can guarantee that there will be an appointment available for you once he/she arrives.
Newborn sessions last up to 3 hours, allowing plenty of time for top-up feeds and nappy changes as required.
The mobile service is available for home sessions within my catchment area, but availability is more limited than for studio bookings.

elegant black and white
This classic style will never go out of fashion or look dated and works particularly well for close ups of baby's hands/feet or for shots of baby cradled in your arms or hands. It also gives an opportunity for us to include mum/dad's hands in shot to show just how tiny your little one was.
Like this style? Also take a look at family photos for new parents.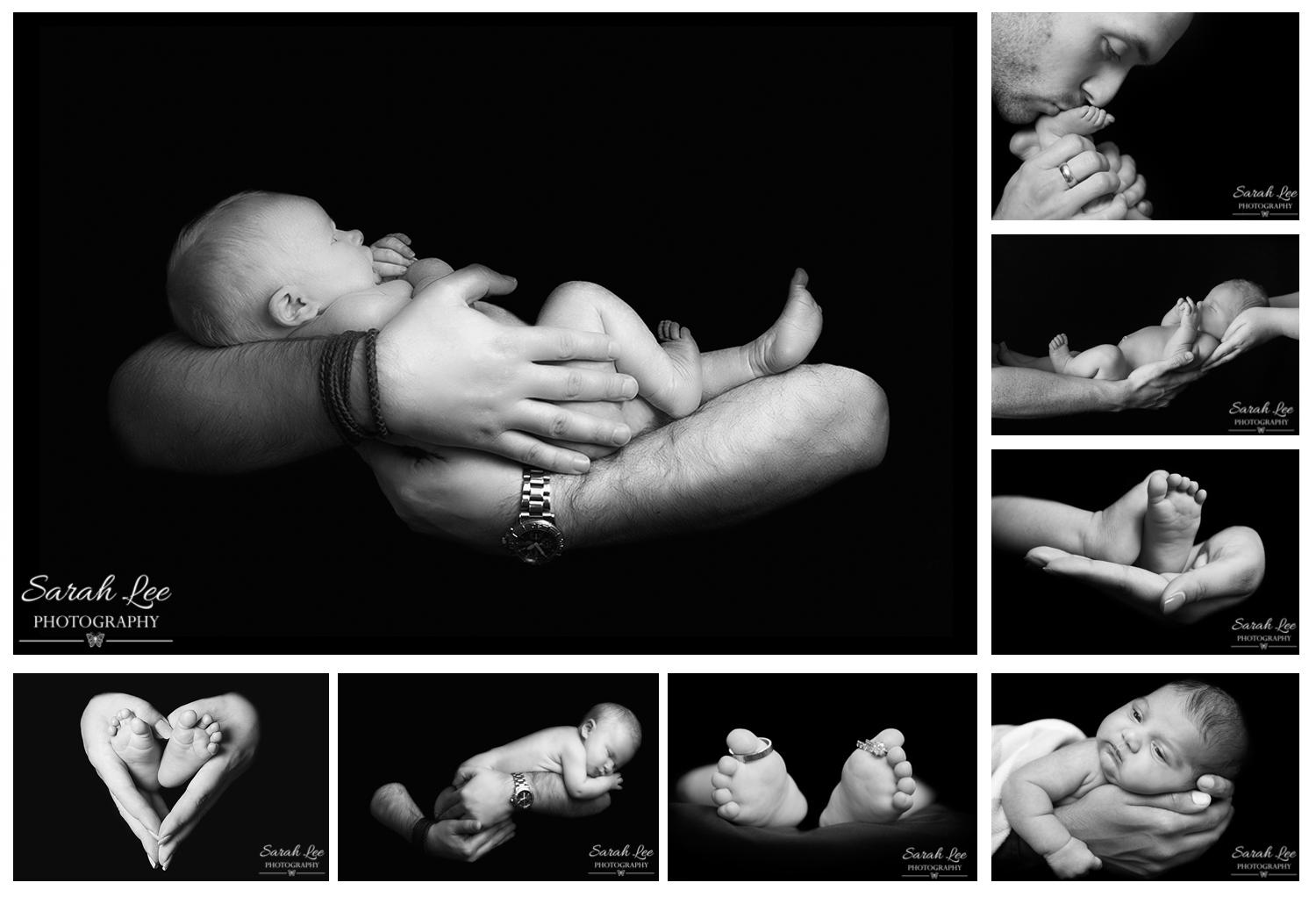 a touch of colour
Pretty pastels are always a firm favourite for newborns, but I have a huge selection of wraps, blankets and accessories in a wide range of colours. Please let me know your preference for any particular colour schemes ahead of your session.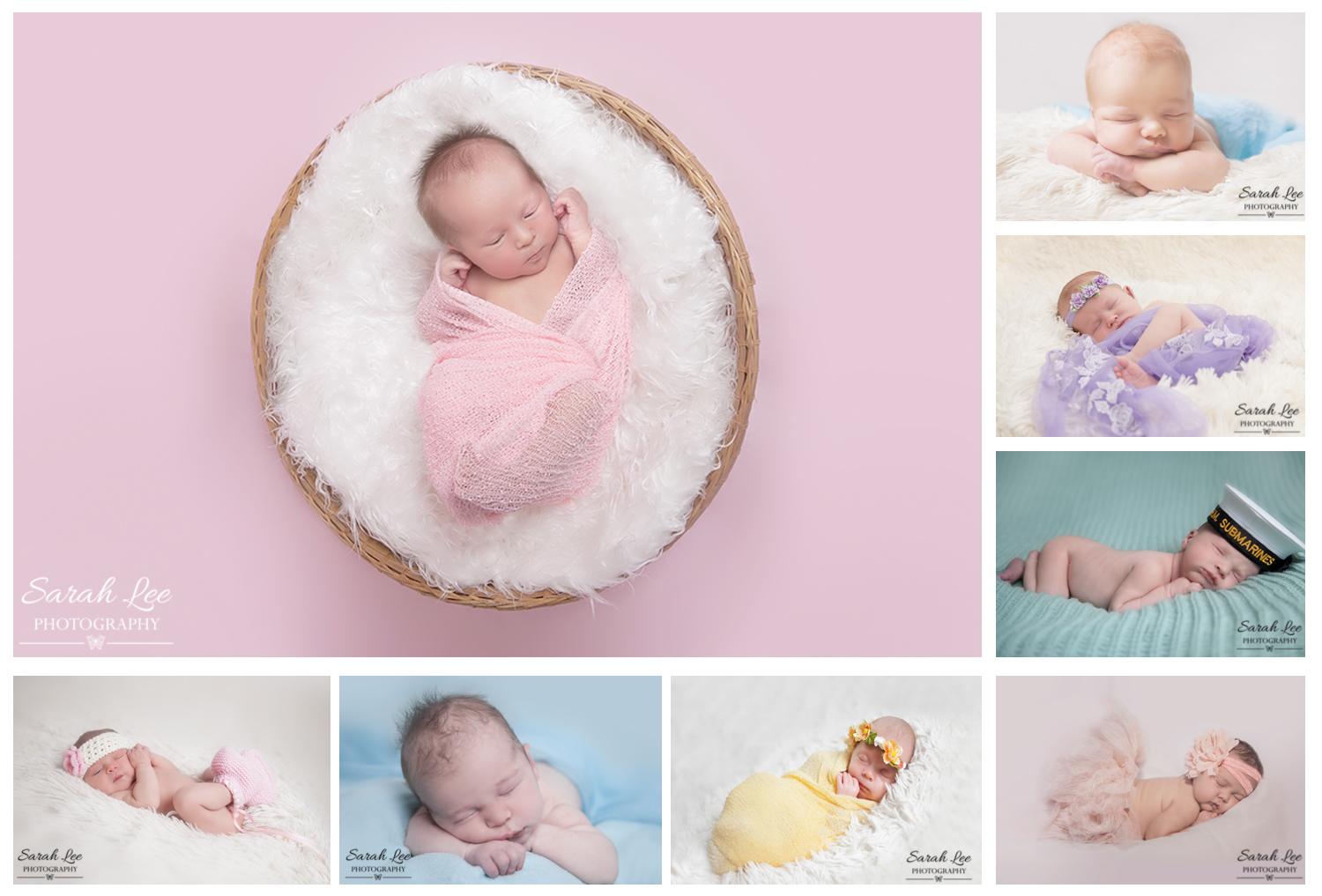 beautiful baskets
As well as adding to the set dressing for your session, being snuggled into a basket can sometimes help to settle and soothe fussy babies. In advance of your session, please let me know if you'd like to make use of my range of baskets and any preferences for shape, colour or style.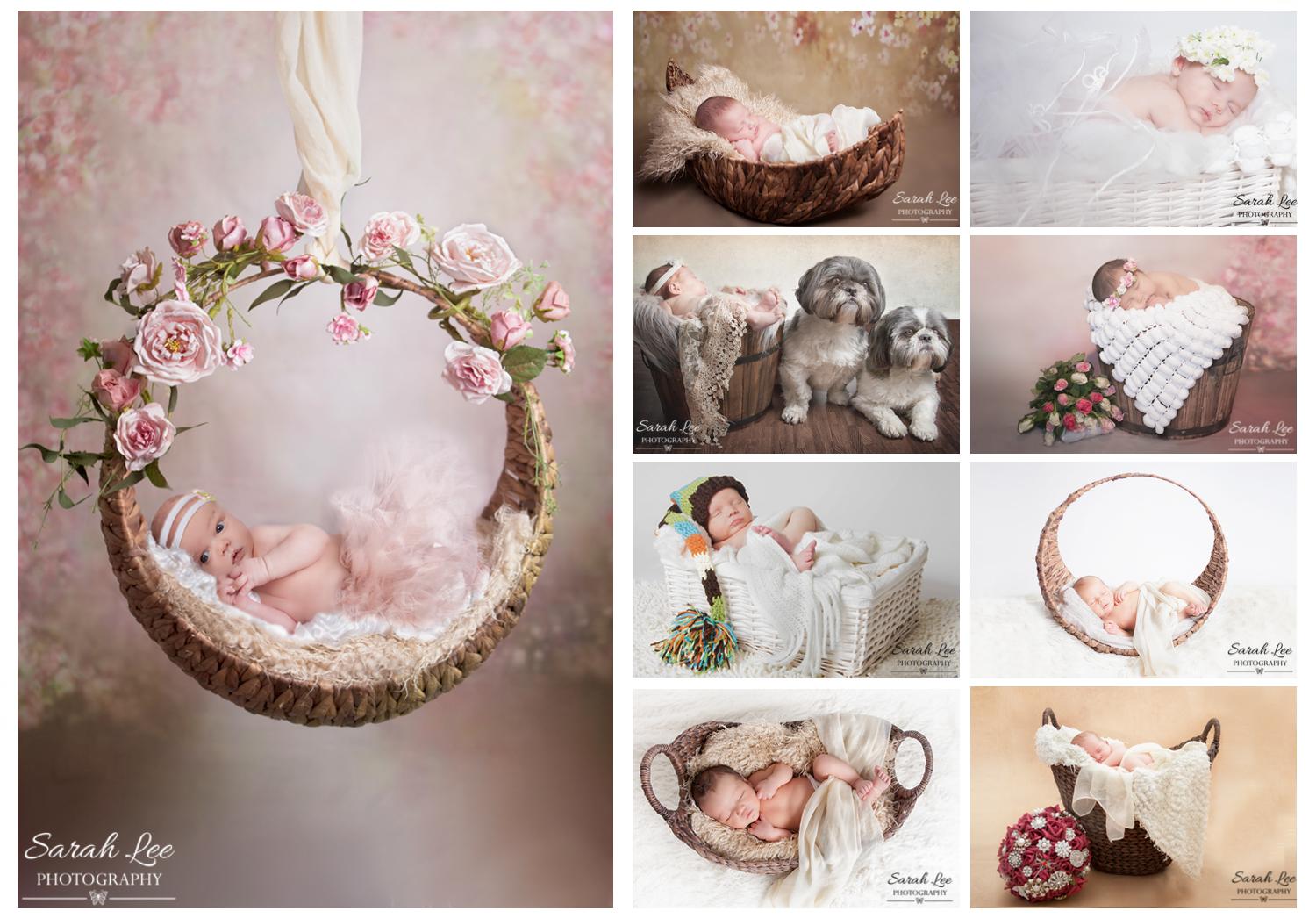 keeping it simple

Your newborn session is all about celebrating your new arrival so if other styles are too fussy or forced for your taste we can keep things stripped right back. No distractions, no frills and no fuss, this style is simply about beautiful photos of your newborn.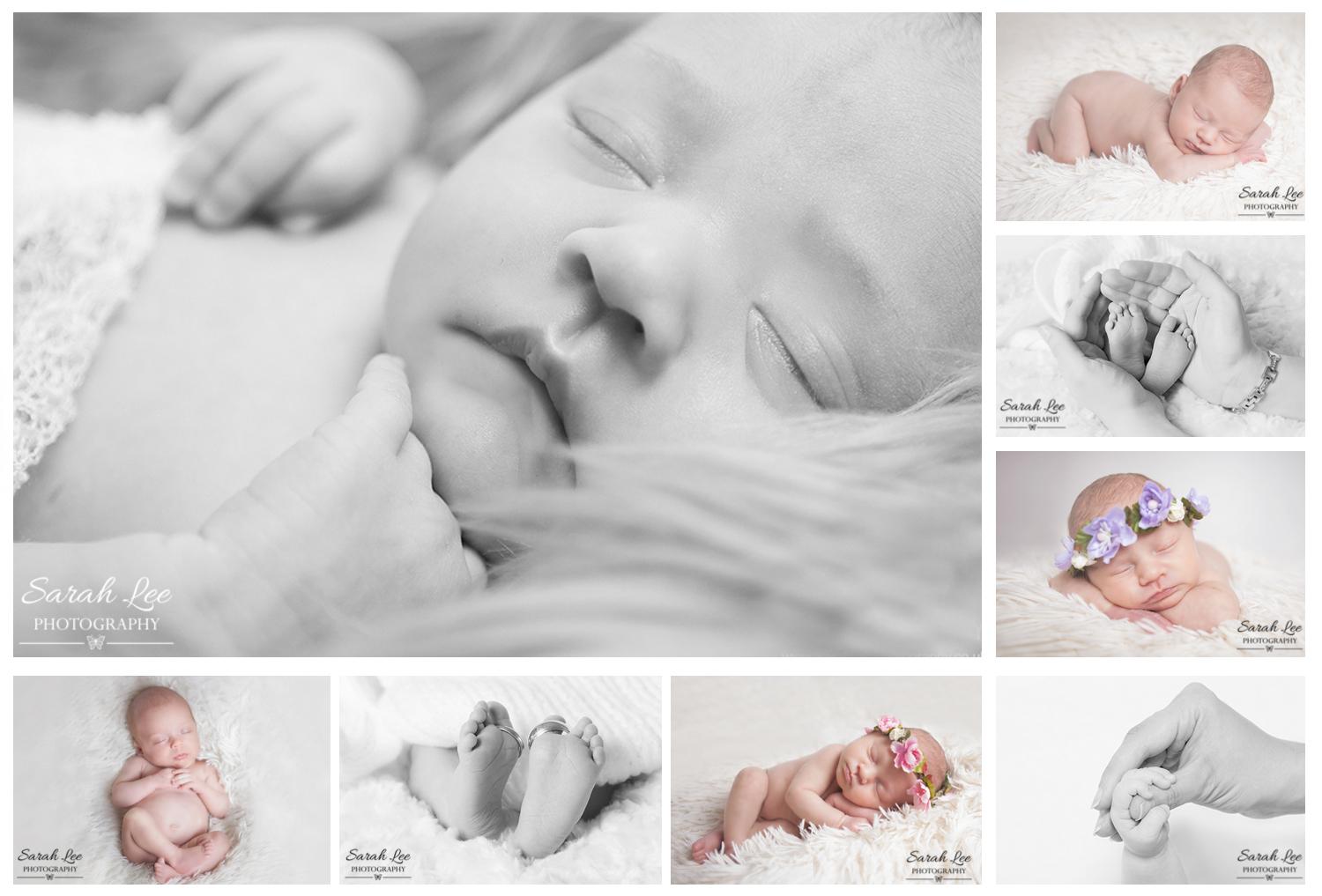 props, costumes and themed shots
Themed shots give you the opportunity to really say something about you. Is there a favourite toy that you want to include? Do mum or dad have a hobby or a favourite sport? Or would you simply like to use some of my selection of costumes or props to dress up a few of your photos. The possibilities are endless, but please discuss any ideas or requirements with me ahead of your session.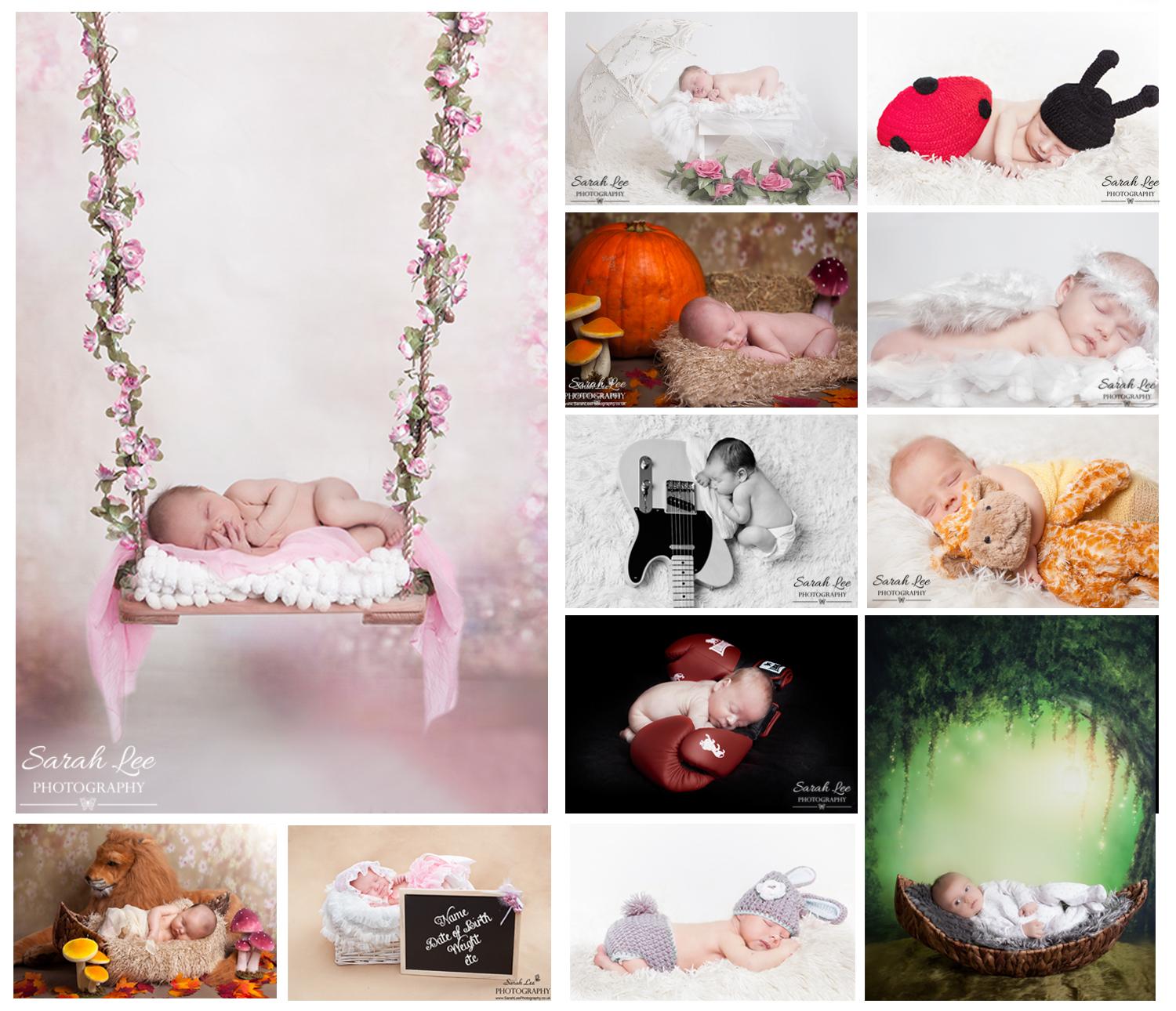 For photographers, "newborn" refers to the period from birth up until around 3 weeks old. Although it's occasionally possible to achieve these types of shots right up to 4/5 weeks of age (or even later with preemies) outside of this timeframe, please take a look at 'baby' sessions to see what's achievable.
NB: I have a limited number of newborn sessions available each month. To ensure that a booking for your new arrival is absolutely guaranteed, reserve your photoshoot by registering your due date with me before the 7th month of pregnancy.
© Copyright Sarah Lee Photography