Newborn Photoshoots
The first precious weeks of life fly by so quickly that it's easy to forget just how tiny your little one was.
While you'll never have those moments back again, newborn photography sessions allow you to create a special reminder of those early days that will last a lifetime.
A typical newborn session will take place when your baby is somewhere between just a few days and 3 weeks old (ideally within the first 10 days).
During this period, most babies will sleep frequently and deeply allowing us to position them for their photos without waking them. They'll be small and light enough to cradle in your hands or snuggle into a prop and they'll have a natural tendency to curl up as they were in the womb.
Most newborn sessions include several different styles to ensure that you have a good range of photos to choose from. There's no upper limit on the number of set ups for your session, but the amount that we actually manage to achieve will depend on how cooperative baby is on the day. It's really important for me to understand your preferences ahead of your session to plan and prioritise the shots that are most important to you.
Newborn sessions last up to 3 hours, allowing plenty of time for top-up feeds and nappy changes. Due to the length of time required, we only have a limited number of sessions available each month. Babies rarely arrive exactly when expected so we can't take firm bookings in advance, however, if you pre-register your due date we can guarantee that there will be an appointment available for you once he/she arrives.
Newborn Photography Styles
These sleepy shots are a staple of any newborn session and can be dressed up or dressed down with coloured blankets, wraps and accessories to suit your preferred colour scheme,
Please note that these poses require baby to be deeply asleep in order to position them as required.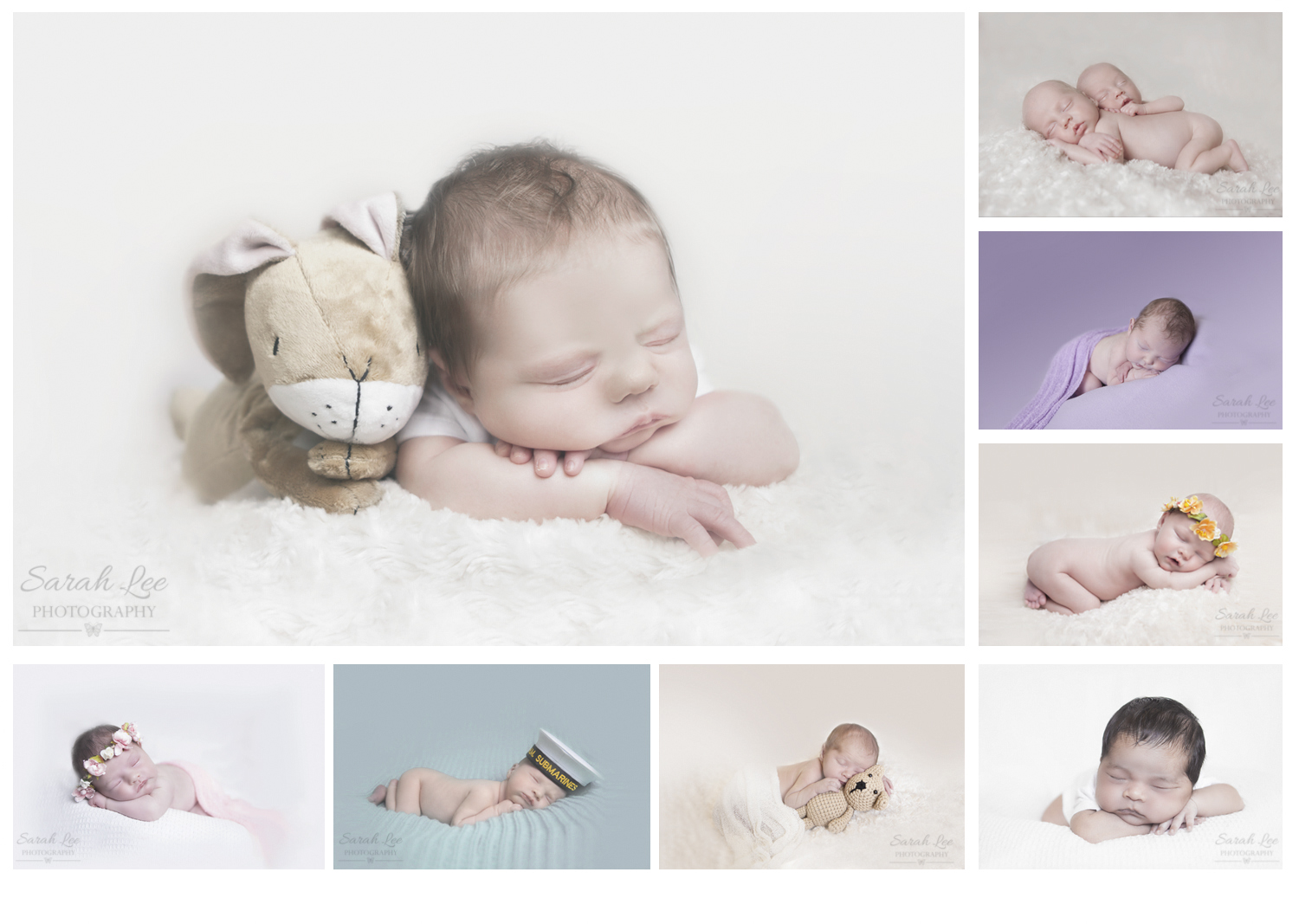 This classic style will never go out of fashion or look dated. It works particularly well with close ups of baby's hands/feet or with baby cradled in your arms or hands, giving a sense of scale to show just how tiny he/she was.
Like this style? Take a look at our newborn and parent images HERE.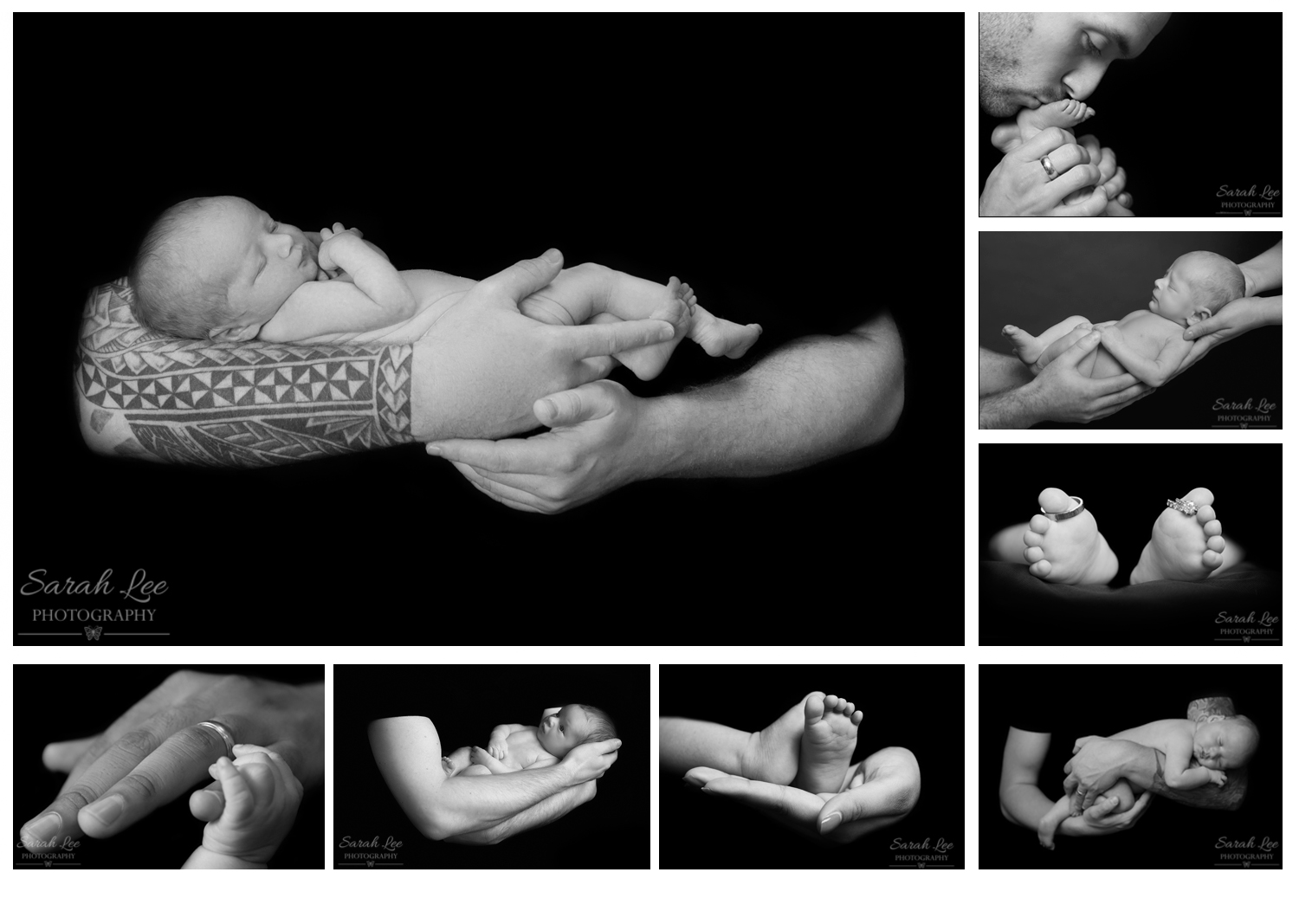 Add a touch of magic to your images with our range of baskets and set dressing. We have a huge selection of baskets, so please speak to us ahead of your session to discuss any preferences for shape, colour and styling.
More information about the use of baskets and containers can be found HERE.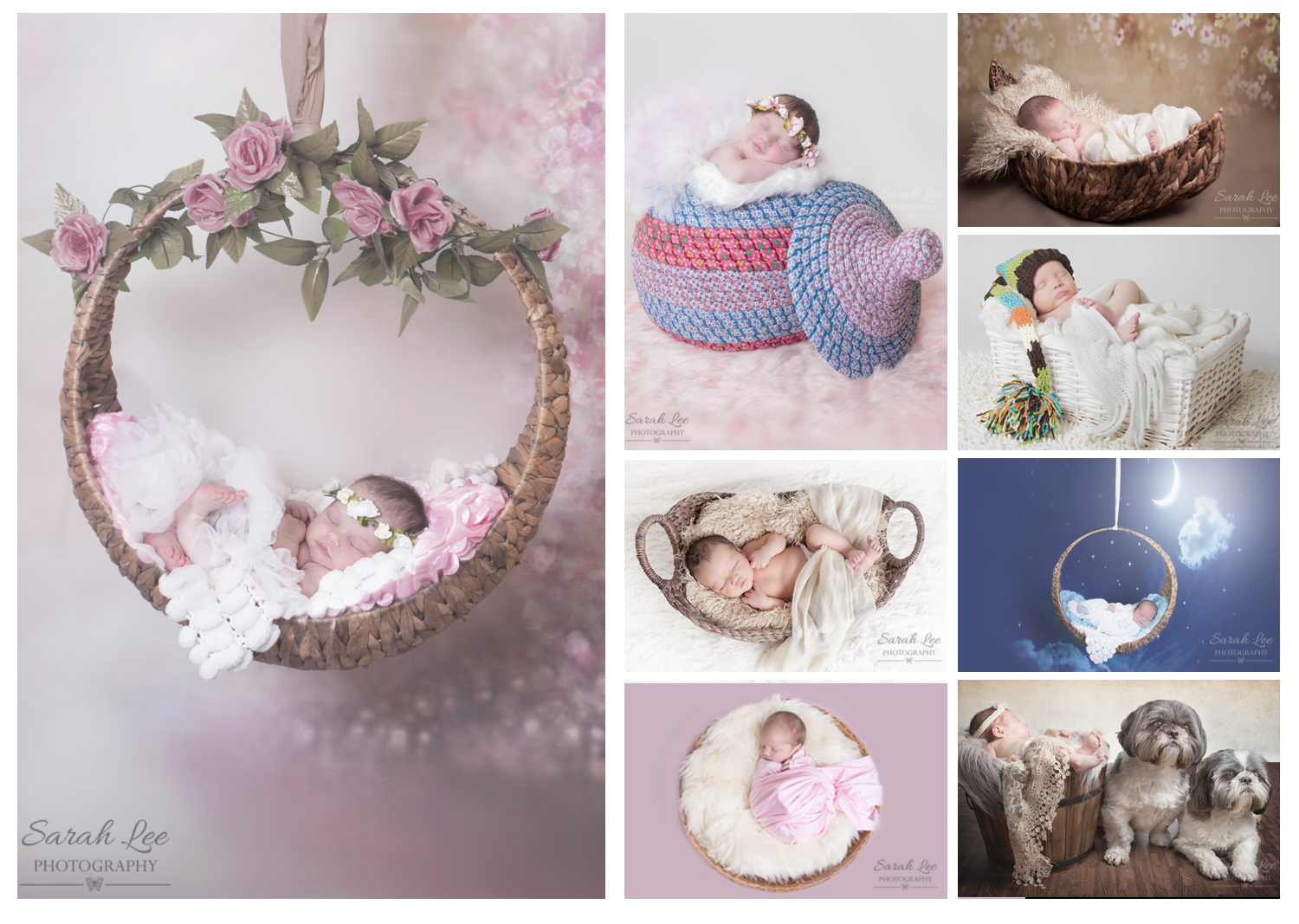 props, costumes and themed shots
Themed images give us the opportunity to really say something about you. Is there a special toy that you want to include? Do mum or dad have a hobby or a favourite sport? Or would you simply like to use our range of costumes and props to dress up a few of your photos? Please discuss with us in advance so we can decide how best to incorporate your chosen theme into your images. The possibilities are endless, so let your imagination run wild!
Ideas and inspiration for themed images and available props can be found HERE.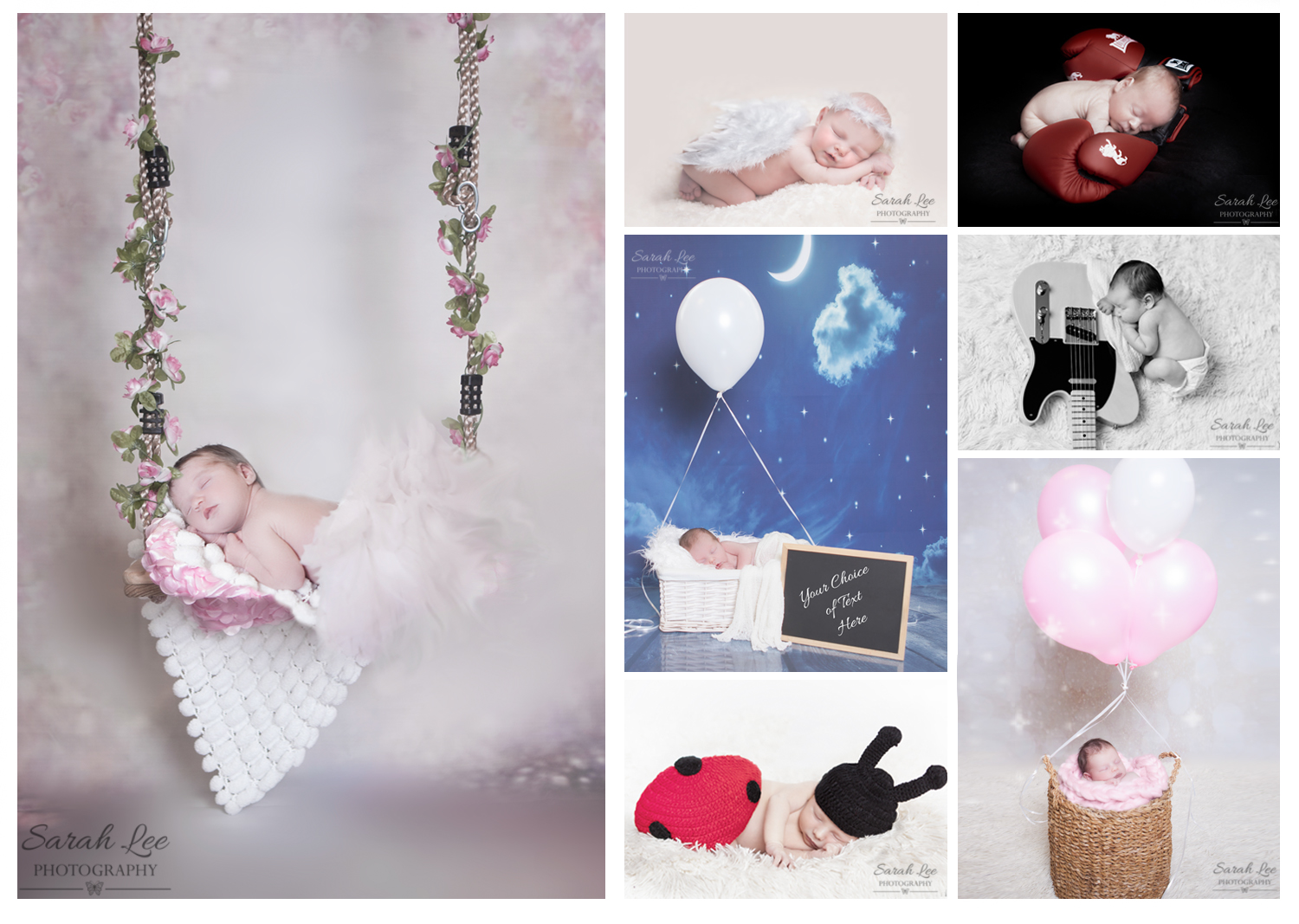 This style is simply about beautiful photos of your newborn. No distractions, no elaborate poses, no frills and no fuss - just a celebration of your new arrival!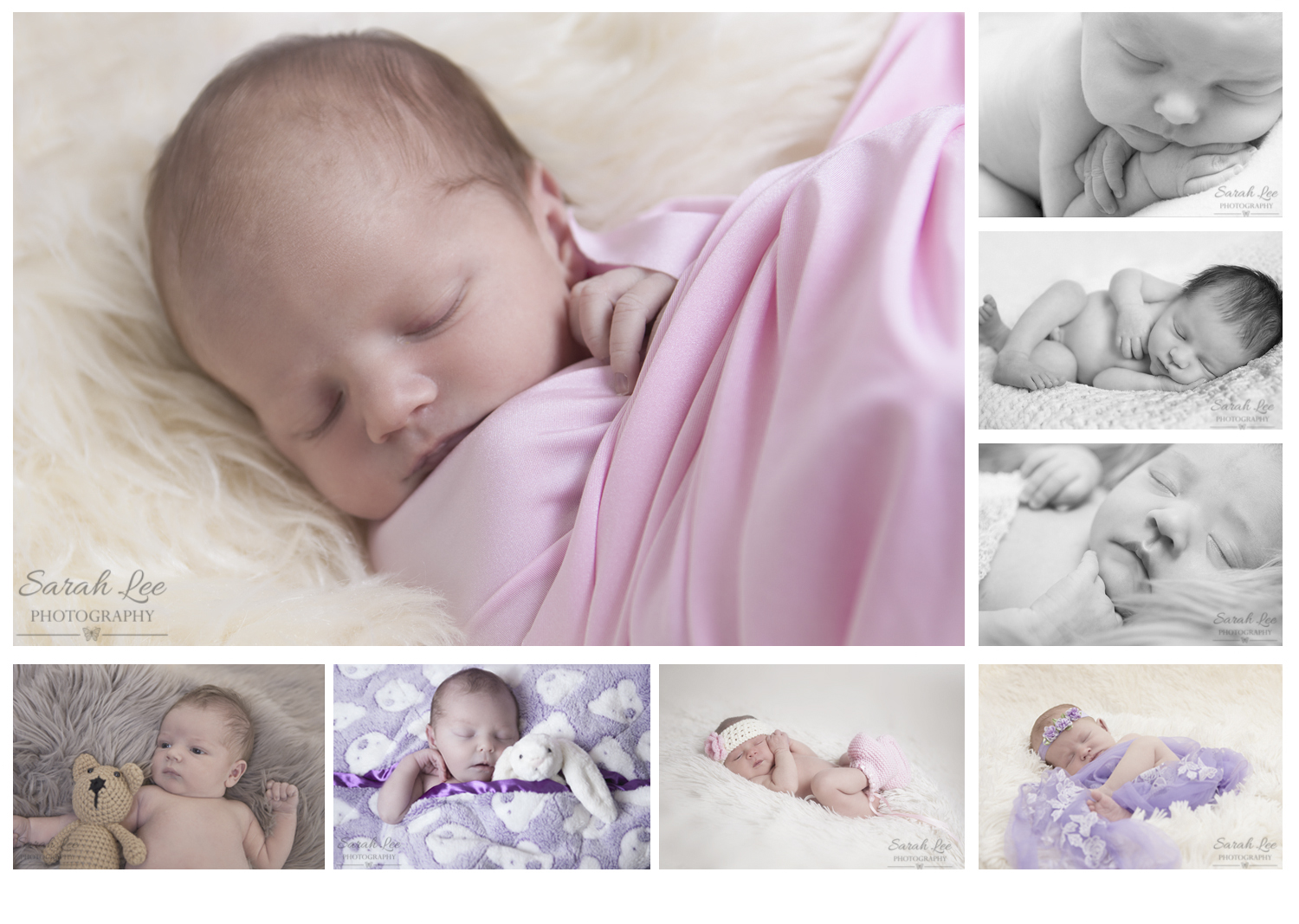 For photographers, "newborn" refers to the period from birth up until around 3 weeks old. It's occasionally possible to achieve these types of shots right up to 4/5 weekd of age (or even a little later with preemies) but we usually recommend waiting for the 3 month milestone if you've missed the window for a newborn photoshoot.
If you do still want professional photos while baby is tiny, take a look below to see what is / isn't possible for babies who are at this in between stage.
© Copyright Sarah Lee Photography