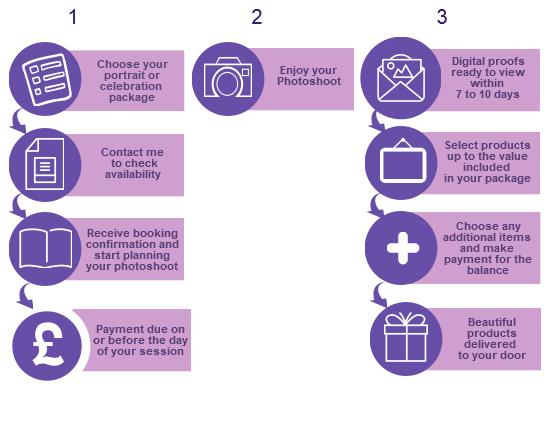 All sessions are by appointment only and take place either at the beautiful boutique studio in Rogerstone or local outdoor areas. Please view individual packages for more details.

Your photography package
Full details of all packages are available to view, but whichever you choose you'll receive the following with every session :
A one to one consultation with me about your specific requirements
A photoshoot at a location of your choice
Initial processing of your images and presentation in a password protected client gallery for your viewing
The option to download digital copies of your proofs for online sharing
Fine tuning, cropping and optimising selected images for print / high res digital copies
Top quality products
The price of the package also covers : administration and preparation costs prior to your photoshoot | my time and expertise for both the duration of your shoot and in post processing | the use of any props | any other expenses which I may incur in carrying out the session, unless explicitly agreed otherwise.
Your photoshoot
Prior to any shoot, I will ALWAYS have a consultation with you either by phone, EMail or even in person so that I understand your exact requirements and have time in advance of your session to prepare for any specific shots that you would like. It also means that you have a good idea of what to expect so there shouldn't be any surprises on the day.
At the beginning of your photoshoot, we'll spend a little time confirming our session plan and discussing the shots that we're going to take. You'll also have a chance to examine any props that we're planning to use and ask any questions before we begin.
The duration of your session will depend on the age of the participants. Babies can take a little while to settle and a session can last for up to 2 hours. Sessions for older children and adults tend to be shorter and are usually complete within an hour while newborn photoshoots may last up to 3 hours. These timings are based on years of experience and allow plenty of time to set up the shots and most importantly ensure that we can work at a pace that you're comfortable with and pause at any point if you feel that little ones need a break. And of course, this will all be discussed with you during your consultation.
NB: During the course of the session, you may notice that I take more photographs than you finally see (including several takes of the same pose). This is to allow for shots spoilt by unwanted expressions, turned heads, blinking eyes etc.

Your Images
Within 10 working days of your photoshoot, your photographs will be beautifully and sensitively edited and presented in a password protected online gallery where you can view your proofs and decide on your order.
My standard image editing consists of minor blemish removal and smoothing of skin tones.On request, further enhancements such as more intensive skin smoothing and tattoo / scar removal can be included at no extra cost. You can either request these enhancements up front or after viewing the proofs in your gallery.
Images will be presented in a mixture of colour and black & white to give you the best possible selection to choose from.
Your Options
Every package is a full end-to-end service including a selection of prints, products and/or digital files and has been designed to give you plenty of choice at no additional cost. However, if you choose to you'll also be able to purchase additional prints and products over and above what's included. All product prices are available to view so you know exactly what to expect up front.
NB: Images will be kept on file for you to continue ordering for 12 months after your session, so feel free to come back at any time to order something else.

Your products
Prior to loading digital files to a USB or sending your chosen images to print, each one will be individually processed to print standard and resized and/or cropped in order to optimise it specifically for your chosen product.
Over the years I've built working relationships with several suppliers, so whichever product you choose will be produced by an expert in that field and represent the best value for money and quality that I'm able to source. Every item is quality checked before being dispatched to me, then reviewed again once it arrives before I package it and pass it along to you.
This all takes longer than ordering a print from a high street printer, so I ask that you allow between 10 and 15 working days for delivery of physical (non-digital) products - although outside of peak seasons it will usually be quicker than this.
There's no additional charge for packaging and delivery. Depending on your location and availability products will either be sent by First Class Royal Mail, hand delivered to your door or if it's more convenient, you can of course call in to collect.
My promise
My approach is based around honesty and openness. I believe in treating clients as I would expect to be treated and in being completely up front about the service and products that you will receive.
There are no hidden charges and there is no hard sell. What you see is what you get and you will NEVER be put under pressure to purchase more products.
My promise to you is that above anything else I want to produce beautiful images and capture those special moments for you to cherish.
Your memories really are important to me.

Thank you for visiting. . .

Sarah
© Copyright Sarah Lee Photography